Rising temperatures, increasingly extreme weather events, and melting ice caps leading to rising sea levels are just a few of the things that are happening right now that are going to bring about monumental changes in life for everyone on the planet. There were 15 billion-dollar weather events in the US in 2016, and extreme weather events are increasing with climate change. These events are costing communities not only people's lives, but destroyed infrastructure and slowed or destroyed economic activity, among other things.
These types of things are going to require preparation and adaptation from the individual level to communities, to cities and nations. Think: making preparations for a storm, or a flood. You make sure the flashlights have batteries, you fill the sand bags, you make sure everyone knows the safety drills, and your house insurance payment is made.  You want to minimize the chance for damage, ensure everyone's safety and their ability to continue after the storm.
According to a 2015 study on climate resilience:
The size of the market for resilience services was recently estimated at $700 million in the U.S. (over $2 billion globally) and is projected to grow 12-20% annually between 2014 and 2020. This market is growing rapidly largely in response to the increasing visibility of extreme weather events such as Hurricane Sandy on the East Coast and drought in Western U.S.
This study goes on to cover much about the growing market and profiles several service companies.
A 2016 report commissioned by HSBC on "green bonds" that fund low-carbon and climate resilience projects:
Our research estimates that there are $694bn of climate-aligned bonds outstanding, an increase of $96bn on last year's report.
In the climate economy, we take a look at economic activities that can increase resilience so that you and your families and communities can weather the oncoming increase in the number and severity of storms (among other disruptions, such as drought, population moves, floods, mosquito-borne disease, etc…).  Economic diversity is a key component of resilience planning. Individuals and communities that can work together to diversify their activities will be more resilient when faced with weather disasters, (energy) industry shifts or other things like prolonged drought. They will be more prepared to bounce back, and may be able to tune up activity in some sectors to make up for others that might be struggling. Also, these communities will be ready when natural disasters strike. We all need to be thinking about these things and not just expecting that someone else will take care of it (oh right, responsibility is the word there).
Think of an area like southern Illinois, that has long depended on the coal mining industry and government jobs (e.g. Southern Illinois University) to provide the majority of jobs in the region. Now that the coal industry is in turmoil and the university is under fire from decreasing state budgets and enrollments, things are already economically shaky in southern Illinois. Not to mention, Jackson county, home of SIU, has the highest poverty rate in the state…climate change effects in this region could effect transportation, agriculture, and energy industries among others. this region now has a profound opportunity to not only increase resilience through economic diversity, but also by transitioning dependence upon a few legacy industries to more up-and-coming models. In the past, the ConnectSI organization had recommended pursuing economic opportunities in areas such as advanced manufacturing, energy and transportation to increase economic diversity. But think about all the potential opportunities just in the southern Illinois region. Tourism could become off-the-grid and integrate with local food producers; communities could make recycling and composting part of the equation; rural areas could organize producers and logistics to support an economy based on bioproducts…I can't even begin to list everything here but we will be covering this more in future posts.
The Vermont Council on Rural Development is working on developing a model for "climate smart" rural communities. The EPA has put together a five-step primer to get you started thinking about community resilience.  Take a look!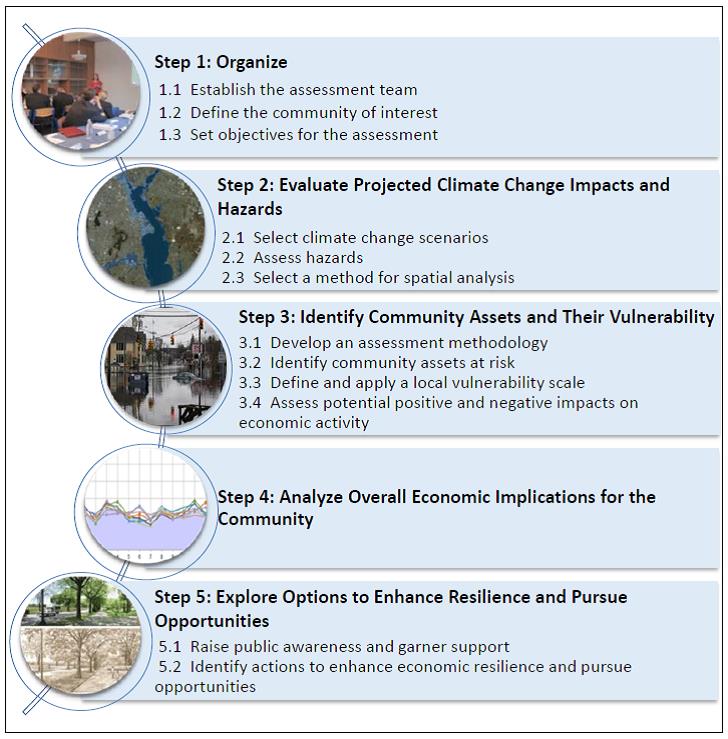 Source: EPA
Photo Copyright: rawpixel / 123RF Stock Photo